INTRODUCTION
Being a webpage dedicated to classic ghost & supernatural fiction, its authors, and writings about the genre--both serious and otherwise...
Herein you will find vintage fiction by John Kendrick Bangs, W.W. Jacobs, Émile Erckmann & Alexandre Chatrian, Algernon Blackwood, and the ubiquitous Anonymous, along with many rarities not previously available on the internet. My emphasis always will be upon Victorian, Edwardian, and early Twentieth Century era short stories and novels, generally within the time frame of 1840-1930.
"RESURRECTION"
That is how I saw a ghost--if it was ghost. It was dead, anyhow.
--F. Marion Crawford, "The Upper Berth" from Wandering Ghosts (1911)
Late 3/08: Thank you to Morgan for her very clever new banner for the Spooks website. If you need a talented artist for your own website or publication, please drop her a line. I knew she was a good choice, after I'd seen some of her earlier work, such as "Light" and "My Beautiful Black Valentine." Her main art page links from those pages, and her contact information may be found there.
3/08: Finally, after many idle promises over the past year or so, I have updated this website rather substantially. I have added ten new works of fiction to the Library and have updated the Radio Room. There's quite a bit of new weird tale material taken from Victorian- and Edwardian-era popular fiction magazines, including Pearson's, Harmsworth Magazine (and its successor, the London Magazine), and the obscure Black Cat Magazine. As an added bonus, four of these tales include all of the original periodical illustrations. I'd like to add many more of these illustrations during future updates. In my home library, I have all of the original E. & H. Heron "Flaxman Low" magazine stories from Pearson's, and, over the next year, I intend to add the remaining eleven (with their original artwork) to the Spooks site, at the rate of one per month. Also, during the past month, I discovered a never-before-reprinted Richard Marsh story, that appears to be a continuation of his short story collection, Curios, with the same characters of Tress and Pugh. This story did not appear in that collection. I will try to have this rare discovery available on this site within the next month.
To update general news about this site, in late 2007, I was very pleased to receive a request from French translator, author, and musician Gérard Dôle to use the "Goddess of Death" illustrations from the Royal Magazine found on this website in a new translation from English to French of William Hope Hodgson's Carnacki stories. "Goddess of Death" is regarded as being the prototype for the adventures of the famous occult detective, and this is the first time this historically important tale has appeared in French. As of February 2008, the new edition of Carnacki: le chasseur de fantômes went to press, and, when I was in receipt of my own copy, I thought it was a beautifully done volume.
Finally, I'd like to thank Vault of Evil: British Horror Anthology Hell! for prominently featuring the Spooks website for over a year. Thank you very much, gentlemen.
10/07: Updates are coming soon, including several original periodical stories, with their vintage illustrations. Also, I will be including much never-before-reprinted material.
"A PLEASING TERROR"
3/06: The Nunkie Theatre Company once again presents Robert Lloyd Parry as he gives one-man performances of stories by M.R. James, "Canon Alberic's Scrapbook" and "The Mezzotint." To better lend proper atmosphere to the tales, these performances will take place in three actual medieval era churches in Cambridgeshire, England: St. Peter's on Castle Street, All Saints' on Jesus Lane, & St. John's in Duxford.
To quote one local paper regarding the last of Mr. Parry's presentations around Christmas of last year:
"Robert Lloyd Parry restores the charm and pleasure of the original tales with his excellent and convincing storytelling… He held the audience in the palm of his hand throughout… and when his voice dropped to a whisper, [we] leaned forward so as not to miss a word of the terror that was being unfolded… ."
--Cambridge Evening News, December 8, 2005.
There will be five performances in all, which have been scheduled for March 17th, 18th, 24th, 25th, and 26th. Anyone near Cambridge, England, may wish to seek tickets for these soon, as they likely will sell out quickly. For more details, you may click here, or visit the Nunkie Theatre website.
"GHOSTS FOR CHRISTMAS"
"None of us chaps goes to Manor after sundown," he repeated.
--H. Russell Wakefield, "Blind Man's Buff" from Old Man's Beard: Fifteen Disturbing Tales (1929)
Turns out that they do. Despite the quiet status for this website over the last few months, I received a few dozen very nice notes in my e-mail box from visitors who enjoyed their explorations in the old hall here. I also found that I'd had some fascinating visitors. I thought I might mention two of them.
First, there was Mark Edward, who was kind enough to link this small site as one of his favorites. Having watched Mr. Edward perform his very accomplished illusions on national television more than once in the past (most notably with Penn & Teller), I valued his high marks for the contents here. He's most celebrated for his knowledge of spiritualism, mediums, and for his own mediumistic stage magic and debunking of deceptive practices. He shares my respect for and long interest in the life and work of the great Harry Houdini.

Next, there was Professor Petre Petrov, expert in Slavic languages at the University of Pittsburgh. Dr. Petrov used my Red Laugh text on this site in teaching his seminar course, "Madness and Madmen in Russian Culture." In honor of the good professor, I have added another classic tale of Russian insanity to my library, "The Scarlet Blossom" by Wsewolod Michailovich Garshin. To my knowledge, this has not been reprinted in English since its first translated appearance in 1917.
Now that Christmas has almost come again, I've decided to follow the time-honored Victorian-Edwardian custom of bringing anyone who cares to read them a few elegant ghost and weird tales. We no longer have All the Year Round, or Belgravia, or Pearson's on the newstand, but perhaps this little cyberspace library and a roaring fireplace in your own home can evoke some of the same cozy yet disquieting atmosphere for reading.
As a matter of fact, I have a few of those old periodicals, complete with the original illustrations, available now in the library. You'll find a tale from an 1899 edition of Pearson's, another tale from the 1904 edition of The Royal Magazine, and yet another from The Yellow Book of July 1895. I also have a number of new accompanying stories, many of which have either never appeared on the internet previously or that have never been reprinted in any format. One particularly pleasant surprise was Harle Oren Cummins's Welsh Rarebit Tales. I hope to have some more of his grisly Bierce-like tales online eventually.
Finally, I hope you will forgive a bibliophile his indulgence. I recently bought a "new" bookcase, manufactured by Arturo Barzi of Buenos Aires during the 1920's, and I'm rather proud of it. There's a picture of it below, and, fortunately, I purchased this old beauty at a heavily discounted price, not much more than a modern oak case without glass panels would cost.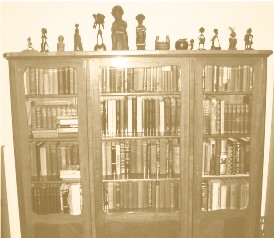 That's all for now. Unfortunately, I still suffer from some health-related issues that slow up my updates for the website, but I will continue in the future, as I am able. I trust you will let me know if you have enjoyed any of the contents here or have found them useful in any way.