During the 1930's and 1940's, you could turn on the tube radio in your parlor nights and hear regular broadcasts of numerous horror programs, such as The Inner Sanctum, The Weird Circle, Suspense, Lights Out!, Escape, & many others. Often, these radio plays adapted classic works of supernatural fiction, by celebrated authors such as M.R. James, Algernon Blackwood, John Collier, Ambrose Bierce, Bram Stoker, H.R. Wakefield, and many others.
There you would sit, with only the glow of the radio dial in the darkened room and the steady, barely audible hum of the hot tubes hidden in the back of the ornate wooden cabinet to keep you company. The narrator would solemnly, or, perhaps with ghoulish mockery, set up the tale of terror to follow. Then, the sound effects men would ply their trade and your mind would conjure up a most memorable set of chills and shivers from those creaking hinges and gravel bouncing on tin that became a driving rain and an old, dark house on a lonely country road... .
I'll admit to being a huge fan of old radio, especially horror and suspense programs, and I'm always pleased to introduce new listeners to the genre. Many of my friends who enjoy classic ghost and horror fiction have been alternately amused by, entertained with, or surprised by the effectiveness of many of these vintage shows. So, throughout the next year, I will be featuring a new show each month on this page for your listening pleasure.
TO LISTEN: start the show by clicking on the player next to the top radio icon below. I have attempted to provide a brief show description, including information about the author who wrote the source material. All shows are in MP3 format.
OTR RADIO PROGRAM OF THE MONTH.
MARCH 2008:
This month's offering is from celebrated English author of ghost stories Montague Rhodes ("M.R.") James (1862-1936). I doubt I can add much that's substantive to the vast biographical library that exists about a man who's arguably the most influential ghost story author who ever lived. However, in brief, Professor James was provost of both King's College and Eton at Cambridge University and a well respected academic who specialized in medieval studies. In his spare time, his intellectual affection for the weird tale manifested itself in a series of ghost stories he first shared with close friends, but that then eventually appeared in a popular series of collections, including Ghost Stories of an Antiquary (1904), More Ghost Stories of an Antiquary (1911), A Thin Ghost and Others (1919), and A Warning to the Curious (1926).
The radio adaption you're about to hear is of one of his most famous and most anthologized tales, "Casting the Runes," which features his favorite subject matter, an academic in peril of his life and limb from supernatural forces. In "Runes," the academic in question meets a very nasty black magician, one Mr. Karswell, who then proceeds to pass some cursed runes to his intended victim, and the consequences and their final solution are a bit unexpected. This radio show comes from the Escape! series and was first broadcast in November of 1947.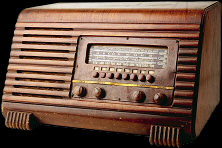 If you experience difficulty in listening to the radio show, click here.
COMING ATTRACTIONS...
COMING SOON:
To be announced...
Copyright(c) 2008 R.J. Warren. All rights reserved.
Real OneŽ is a registered trademark of RealNetworks, Inc.
Source audio recordings are believed to be in the public domain.
Please contact page owner via e-mail if you claim copyright.